Superbly Synchronised Systems
Introduction
Freight Logistics Solutions (FLS) are experts in logistical solutions for businesses.
FLS uses operational, supply chain, and logistics technology within a global network of suppliers and carriers. FLS helps clients improve their transport service levels - and be more cost-effective by using the best logistic solutions.
The Challenge for FLS
The main challenge for FLS was managing a business with no Customer Relationship Management (CRM) System. The company was, in effect, a spreadsheet run business.
FLS was detailing information for clients and suppliers and all leads for the sales team on separate manual spreadsheets.
This use of spreadsheets meant the company was "disjointed in data."
The objective of the CRM project was to create a centralised database.
The company would then have one source of the truth for data. FLS could then use the data to improve its business instead of storing data and doing nothing with it.
FLS had already tried several CRM implementations, which had resulted in 'bad experiences'.
The company found that salespeople promised certain functionalities. However, after implementing the CRMs, these functions were not available.
These negative experiences made the company reluctant to use a CRM.
The Best Collaborative Solution with PYB
FLS found the whole HubSpot experience quite daunting. Consequently, they decided to work with Plus Your Business (PYB) - 100% HubSpot.
FLS immediately liked the "plain-speaking" consultants at PYB.
It was a refreshing change and made top management "believe" what they were saying was true.
Many times, FLS asked PYB if they could carry out specific technical tasks on HubSpot.
The PYB team would respond by asking FLS what they wanted to achieve.
This collaborative approach demonstrated the technical expertise of PYB.
PYB shared their previous experience in helping clients manage and use HubSpot.
The solution installed involved:
• Complex integration with existing 'carrier portal'
• Conditional sections - with different business units viewing dedicated information
• Multiple custom objects, including a creative 'freight vehicle availability' calendar' - see the video below...
PYB's Technical Expertise Helped Save Valuable Time - and the technical structure of FLS sat across five different core systems: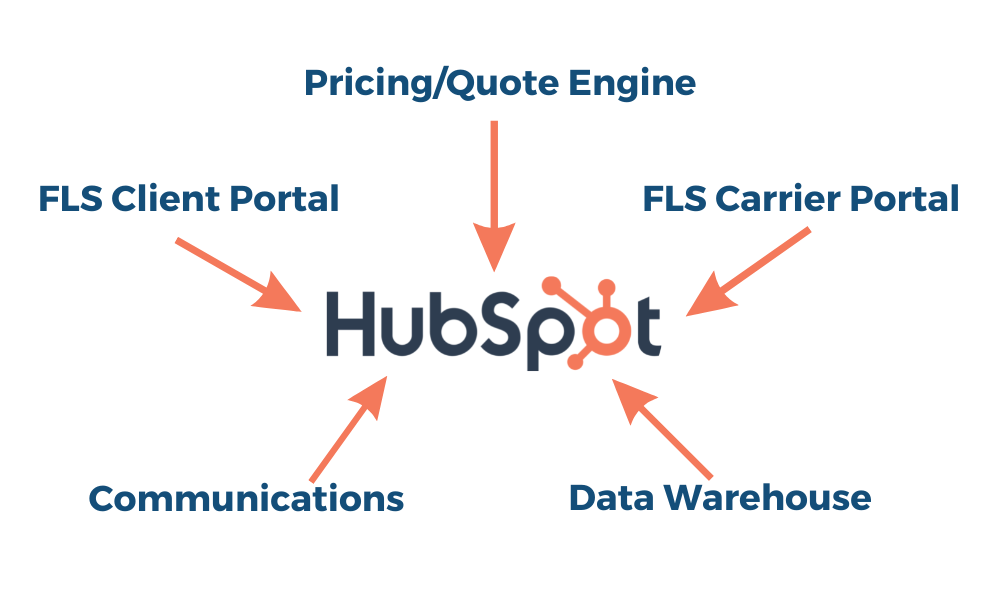 HubSpot sat in the middle of all these systems.
PYB stepped up as the coordinator to TeamSpeak across a wide range of technologies.
PYB's vast experience and understanding of APIs saved FLS valuable time researching everything themselves.
For example, if a company needed a text messaging provider that could integrate with HubSpot. You could Google this and bring up hundreds of different text message providers. The PYB team could immediately say the best provider to use, right down to costs, give reasons, etc.
The project management level of support made technical decisions easy, fast, and right the first time. The ability to chair a meeting with three different technologies was invaluable. PYB always knew the pitfalls in advance. This experience made PYB a valuable investment, as it helped lower risk.
Positive Results With Solid Data Accessibility
Chris Sourbutts, Data and Technology Director, said the results were a "Revolution for the company. It has gone from a disconnected state to one where the data is now working for us. Multiple departments across multiple sites can use the system to work on clients. The business can also quickly deal with any issues that might arise".
Automation has helped the company in all business areas, especially in the hybrid working environment during COVID. It has allowed the business to perform together as a company. Now they have one version of the truth instead of several. This issue was one of the core critical problems before using the HubSpot platform.
There has been a noticeable increase in quote conversions following automation. Also, productivity across the board has increased. These increases have happened as the business is now more informed. Chris Sourbutts said that FLS could not "turn it off" and go back to the old manual system from a pure efficiency perspective.
"Clients and Suppliers Are More Engaged..."
FLS is also using HubSpot in other areas, such as marketing emails. Since marketing has used the platform, they have noticed an uplift in responses to all their client communications. FLS now boasts some of its highest email open rates and engagement responses.
Suppliers have also benefited from receiving communications from one source. Before implementation, they would receive emails from several different employees. Now they receive one email from the appropriate person. The frustration from being spammed has gone, and the suppliers are now more engaged.
"The driver experience at FLS has evolved to be nothing short of amazing. All communication, quoting, bookings, and financial administration has become easy online. The systems now talk to each other, which is a breath of fresh air in the sector. Well done, FLS, for using technology (Hubspot) to improve logistics."
Martin Watkins – Connect Transport (FLS Haulier)
The Visible Impact On The Business
In the past, operational managers were reluctant to use a new CRM because of bad experiences.
This time, operational managers have been overwhelmingly supportive of HubSpot.
It has helped them increase their productivity instead of adding another layer of bureaucratic administration.
The way the employees have embraced the CRM is a testament to the roll-out with PYB. The team delivered HubSpot correctly, creating an efficiency gain for the people using the system. This approach meant the staff were more inclined and engaged in using the platform.
"We're Constantly Exploring New Opportunities Together..."
PYB, as an elite HubSpot partner, has deep knowledge and experience helping clients. Sometimes HubSpot's initial solutions may not always be the best option. PYB works with FLS to present laser-focused solutions that match the business requirements.
FLS continues to work with PYB in many different HubSpot areas. From the initial signing of the contract to the platform's deployment, engagement, and rollout. PYB is now helping FLS work on custom apps. There is a mutual understanding that everything is possible to improve business processes by working closely together.
The best decision we made this year!!!!
"Engaging Plus Your Business to guide us through the HubSpot sales process and then onboarding has been literally the best decision we made as a business this year!!!! Martin and Elisa combine expertise with a responsive, proactive level of customer service".
Chris Sourbutts
Logistics Supply Chain - Freight Logistics Solutions
Martin, Elisa and Darian are a joy to work with, and make Onboarding and implementation easy. Brilliant at responding to queries and their 'can do attitude' means that they are always looking for ways to help our business improve. We had to import databases of information into HubSpot and this was done seamlessly by PYB. We also had to develop API Integration with another system which was done with very minimal stress. If anyone every asks me for a HubSpot Expert, I will recommend Plus Your Business straight away.
Aaron Parry
Logistics Supply Chain - Freight Logistics Solutions