Really Great Reading Case Study - Technical Expertise
Introduction
Really Great Reading, based in America, creates reading instruction tools to help students learn to read. These instructional materials enable teachers to assist students in developing foundational reading and vocabulary skills.
The Challenge for Really Great Reading
The CEO from Really Great Reading (RGR) contacted Plus Your Business (PYB) at the end of January 2023 because they were having trouble using HubSpot. RGR employed a company to help them onboard in 2022 but sensed there was more HubSpot could do for them.

RGR was right in their assumptions. RGR was using a data model forcing them to use a Custom Object. The correct model the company needed to use was a Company Object (with Parent/Child) association. The company needed a more appropriate model to use the data at the desired object level.
RGR was currently using 1) Contacts for contacts, 2) Deals for deals, 3) Custom Objects for districts, and 4) Companies as schools. RGR wanted PYB to remove the Custom Object for the district and create a more standardised object. The migration would help the company use data more effectively.
The Solution by PYB
After several meetings with key stakeholders at RGR, we discovered that personalisation for Custom Objects, such as marketing emails, was unavailable. The company wanted to move the districts currently in Custom Objects back into Company Objects.
We created a Gantt chart to ensure the process was as easy as possible for RGR. By having everything in one set area, we could work closely with all the Project Managers from RGR. Using the Gantt chart helped give a clear picture of where the project was, where it was heading and the next steps for migration.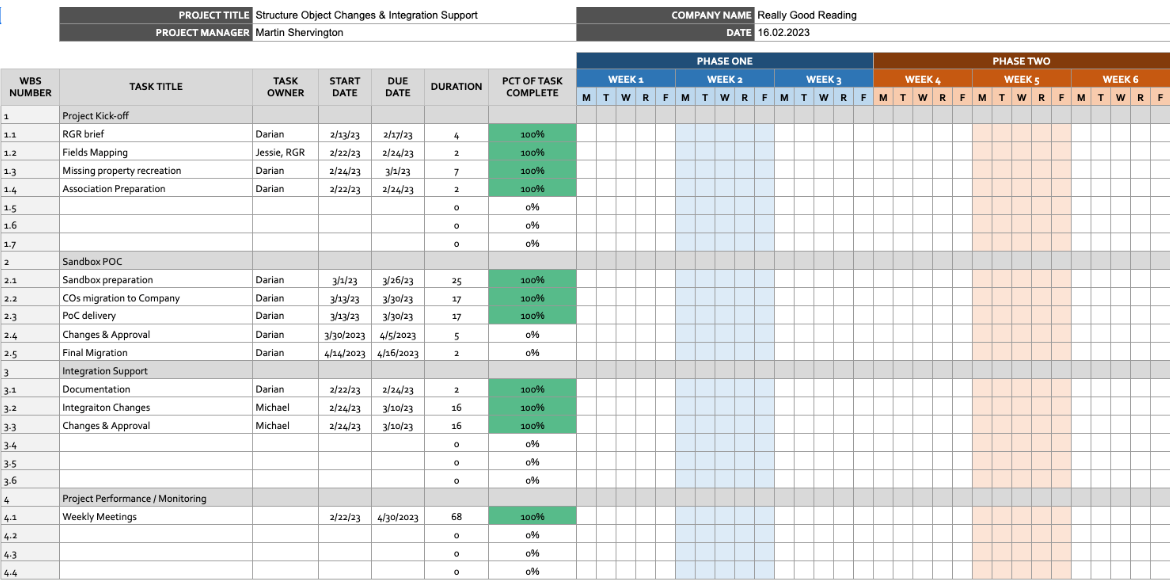 The nature of the migration meant it was a complex project. PYB needed to help RGR by using a multi-pronged solution to help the company create a better working model. Therefore, we decided to use a schematic view or identity relationship diagram to show RGR how we planned to solve their problem.
RGR was using a content management system (CMS) called Drupal. This CMS imported all the new contacts, companies, schools, and districts. On the one hand, the company had an integration with a CMS system, but they also wanted to import all new schools and districts from an NCS export.
There were around 250,000 records in relation to the schools and districts. The solution for RGR meant removing 20,000 districts from Custom Objects. Actioning this would affect all the engagements, tasks, notes, emails, etc., currently detailed in HubSpot.

The solution from PYB was to take a new Company, list associations with other objects, and create another Company Object. For example, if New York is a district, we created a new Company and then stored the IDs of the contacts, deals, and engagements. We then reassociated it with a new Company and entities in HubSpot.
It was also essential to take into account that Drupal would send updates to IDs that would be unknown. Therefore, PYB mapped all existing IDs in Drupal, and PYB sent new IDs to Drupal. This mapping meant the record could still update, but it would now be Company Object rather than the original Custom Object.

The schematic view was ideal for showing RGR what would happen at each stage and the HubSpot endpoints.

The process involved first searching by Drupal ID; if the ID were known in Drupal, the Object would be updated. For example, if it were for a Drupal district ID, there would be a search on Drupal first, and then, if necessary, the system would create a new ID. The plan was to recreate everything in a HubSpot sandbox account initially.

PYB created a whole process in the HubSpot sandbox account by first removing the Customer Objects. Then, doing the association with Company Objects and carrying out an association for Parent/Child. This process meant structuring the district as a parent and the school as a child.

During the migration via the sandbox HubSpot account, the RGR team could use the sandbox account to monitor everything. It allowed them to advise if everything was working correctly. Once the team approved the setup, PYB ran the real migration for RGE.
The Outstanding Results
Although the challenge was recognisable and the solution was clear, it was a complex and rewarding project for PYB. After the migration, RGR has access to all their data in one place. The data is also clearly structured precisely how the company wanted it to be.
The company can now use personalisation in all communications with any contacts, such as email marketing. RGR can also create reports that reflect the real situation on data for any scenario.

The user interface in HubSpot is also more accessible for the client as they can see any associations immediately. For example, if they look at the school or district level, they can see where that person sits and their role in their location.

RGR has used this new schema and structure for over six months and is still very happy with the results. The company's positive feedback confirms that the reconfiguration of HubSpot was highly effective. Also, PYB created an excellent process by preparing everything in the sandbox before making the final migration.
The Impact of the Solution
The original frustrations with HubSpot no longer exist. The company is now enjoying using HubSpot to its full potential. RGR also has quick access to deep data to help them continue to improve their business processes.
"Knowledgable, Skilled, and Responsive"
PYB is a full service firm - able to handle data structure issues, integrations, workflows and more. Martin and Elisa came to our rescue when we realized we had launched our CRM with a problematic data structure. Their team helped us rebuild the plane while it was flying - extracting an unnecessary and problematic custom object - and providing the guidance we needed to make the most of HubSpot's built-in functionality and prepare our data appropriately. No simple feat, it was carried off expertly. Now we are tackling our service pipelines and ticketing gremlins. I have no doubt we will continue working with PYB in the future as we delve into marketing and sales items on our to do list.
Jessie Collins
Director of Technology Strategy, Really Great Reading