WaterBear Case Study
WaterBear is a College of Falmouth University, a pioneer in creative industries education, entrepreneurship, and innovation. The College of Music offers BA (Hons) and master's degree courses designed for musicians, artists, and industry professionals. The company provides access to small class sizes, flexible course delivery, and one-to-one mentoring.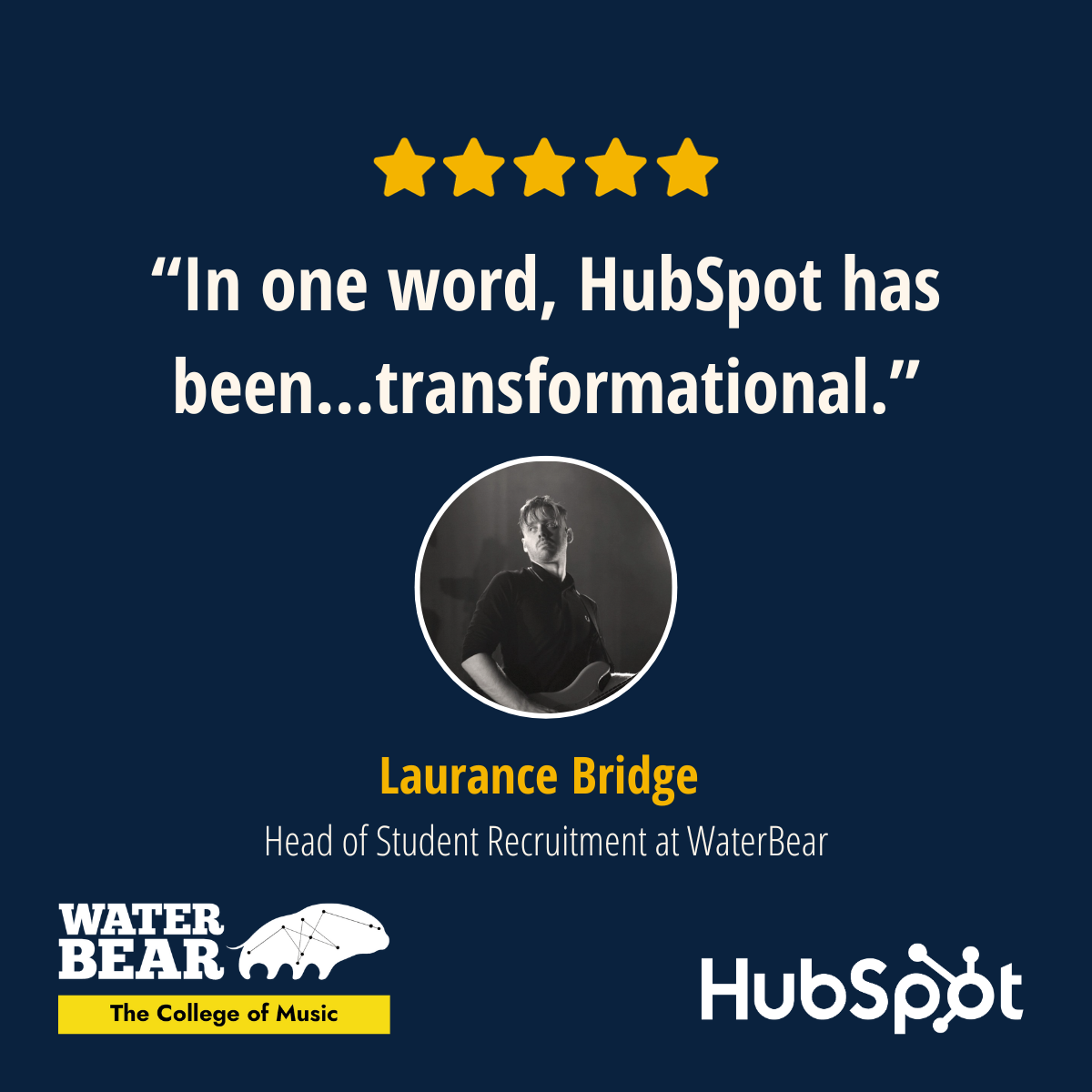 The Challenge Of Using Manual Processes
From the first day of business, WaterBear used manual spreadsheets to track and monitor all areas. This problem was still an issue in Year 2 of the startup when Laurence Bridge, Head Of Student Recruitment, joined the company. Using Excel spreadsheets to track sales leads and other areas was happening in all departments.

For example, if a potential sales lead signed up via WordPress, WaterBear would receive a notification in an email inbox. The company would then have to respond to this person manually via email. The employees had to log all further correspondence for the company manually on spreadsheets.
This system meant the company had slow processes, and there was sometimes data duplication due to human error. Also, because the company was still growing, each department was relatively small. Employees were using a lot of departmental time updating these cumbersome manual processes.
It was frustrating for WaterBear as it was proving to be labour-intensive fielding every student enquiry into the college. Additionally, there was no way to enhance the reporting because it was impossible to collect any data from people. The lack of data also meant the company could not refine and improve its sales pitching process.
The Automated Solution With HubSpot
WaterBear had initially tried a month's free trial with HubSpot to try it out for their marketing. There was a reluctance, at the time, to pay for HubSpot due to budget constraints. Also, Laurence had already created workflows for the company that were delivering results and working well.
However, as the company grew, it was clear that a CRM was a potential solution to help handle data management and workflow issues. WaterBear decided to use HubSpot as its CRM in September 2021. Laurance had experience using other CRMs in the past but not from the management side.
Also, having read up on HubSpot, Laurance realised that seeking expert help was an integral part of ensuring they used HubSpot effectively. Considering this, WaterBear engaged Martin and Elisa at Plus Your Business (PYB) to help them successfully onboard onto HubSpot.
Initially, WaterBear was working with Marketing PRO on HubSpot. This part of HubSpot helped the company to "plug the gap" that was missing for auto emails. This positive change then led to the creation of a database. It was a bit like using a higher-level spreadsheet with email functionality.
Laurance explained what was happening during this stage, "We knew it was not the highest use of HubSpot, but we could start organising our data. This organisation meant we could gain insights, which we could not access before having a CRM."
During the second year of using HubSpot, the company decided to invest in HubSpot's Sales Enterprise. Now, the company could stream all its communications through HubSpot. Also, they gained access to templates in different areas of the system, which immediately helped to save time.
Laurence's team can now access and monitor deals at different stages on HubSpot daily. For example, it is possible to track the entire life cycle of a customer and understand the actual customer experience. The team can then use these insights to deliver better customer campaigns.
Also, when somebody signs up to the website, they receive an instant automated email. This automation encourages people to apply for a course and helps to increase conversions. In the past, this would all follow a slow manual process that could take several hours.
The Transformational Results
WaterBear has now been using HubSpot for three years. From the expert training Laurence has received from Elisa and Martin, he has complete confidence in using the platform as its CRM. Laurence is now the go-to person in the company for HubSpot, regularly training his team to understand what it is and what it can do.
HubSpot has become ingrained into WaterBear. It's not only the sales department that is using it. The admissions department also uses HubSpot alongside the marketing and recruitment departments. Laurence highlighted that if HubSpot were not there, the company would suffer massively.
Laurence Bridge, Head of Student Recruitment at WaterBear - "In one word, HubSpot has been transformational."
The company might also decide to roll out HubSpot to the different education departments within the college. WaterBear is not at this stage at the moment. However, depending on team structures in the future, this could also be an option to expand the use of HubSpot.
Three years ago, the company relied on multiple spreadsheets to manage data across five different departments. The old process was holding WaterBear back. All the employees fully appreciate what a positive impact HubSpot has had in all areas of the business.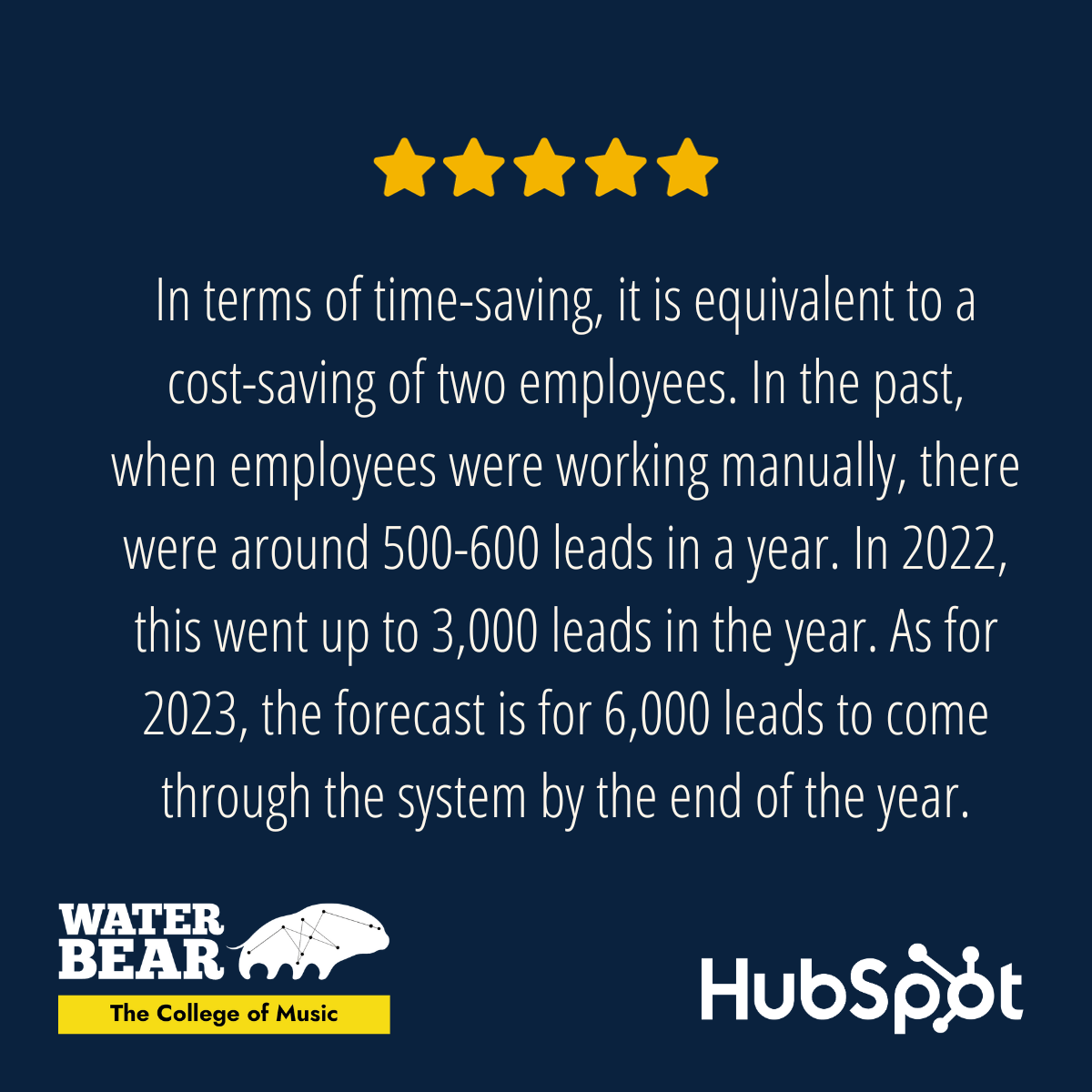 In terms of time-saving, it is equivalent to a cost-saving of two employees. In the past, when employees were working manually, there were around 500-600 leads in a year. In 2022, this went up to 3,000 leads in the year. As for 2023, the forecast is for 6,000 leads to come through the system by the end of the year.
Another area where there has been an impact is in workflows. HubSpot allowed Laurence to think about other areas where he could use workflow automations. The company uses it to automate emails and other forms of communication as a set standard.
Additionally, WaterBear is now using HubSpot to automate deal pipelines based on what the admissions department is doing. Without the departments speaking to each other, they can mirror their reports. It was incredible for the company to think they could use workflows this way inside a CRM.
Finally, the company can also use the data it collects to create reports. This ability was something the company was missing before using HubSpot. In particular, HubSpot's reporting system is ideal for granular reporting if you want to compare two or more things against one another.
"Excellent Onboarding and custom request execution"
It was an absolute pleasure to work with Plus Your Business - finding an off the shelf CRM has been a challenge in our sector, and so it's great that this service helped us customise HubSpot to the needs of the business. I wouldn't hesitate to use Plus Your Business again.
Laurance Bridge
Head of Sales, WaterBear - The College of Music